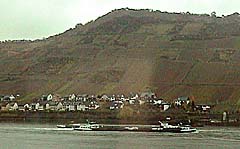 Through the reflections in our train window we could see this barge making its way down the Rhine. A small German town is on the riverside, and vineyards lie on the hillsides like quiltwork.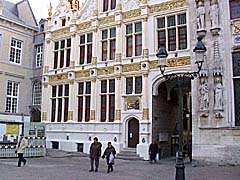 This is Renaissance Hall on Burg Square in Bruges. Below is a sample of the building's detail.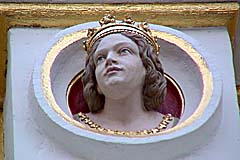 ---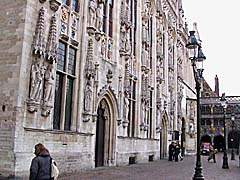 City Hall on Burg Square in Bruges, with a bit of its detail below.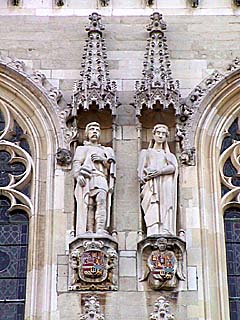 In case you weren't able to figure it out from our last update, we DID make it home early Monday evening, December 3. We still have to tell you how we got here from Freiburg, Germany, which is where this oddyzee left off on Monday, November 26.

We were boarding a northbound train for Koln, having just left about 15 pounds of our load at the post office to go on a slow boat home. We got on the train at about 11 in the morning, and our plan was to arrive in Bruges, Belgium, by early evening. It seemed as if we'd been seeing a lot of this route, but this was the first time we'd been through here in the daytime. The train followed the Rhine valley, which looks a lot like our own part of the Mississippi valley, complete with tour boats and freight barges. Like the Upper Mississippi, the Rhine is flanked by steep hills. The hills along the Rhine wear a patchwork quilt of vineyards and are frequently crowned with ancient castles. Sometime we'll have to come back to this valley and see it from a riverboat.

When we dug out our camcorder we found a switch had inadvertently been left on, so the battery had about five minutes of power left. So much for shooting all the castles. We'd been told once that sometimes you just have to take the pictures in your mind. We sighed, said "oh, well," and wrote it off as part of the adventure; but that insignificant little incident set off a string of stressful episodes that defined this week's travelling days.

Before leaving Freiburg we made contact with Bobber's sister Jen and her husband Gabe, who live in the East End of London. They were expecting to see us on Wednesday, but we'd decided to go to their place from Belgium on Thursday. We had enough time left on our German phone card to talk to Jen & Gabe for about ten minutes, more than enough time to update them on our plans. We had about 40 minutes in Koln between trains, more than enough time to make this phone call and grab something to eat. But our "Yello" phone card couldn't make the connection, all it's computer would say is, "there is no reply." We called customer service, and after being passed to two more numbers, we were told that the number should be ok to reach. "OK, well let me try it on the phone next to me and I'll tell you what happens." By the time all the numbers were dialed on the next phone, and the robot operator said, "there is no reply," the customer service guy on the other phone had hung up. We had to give up on our phone call or miss our next train.

Unfortunately, that wasn't the last time we were to feel ripped off on this Monday from Hell. Our train from Koln to Brussels was the Thalys, a "premium" train that required a reservatioin and the payment of a "supplemental" fare of $20 each. For this "premium" fare, we got cramped seating with no extra ammenities that we could notice. We had to go three cars down the train to find a working toilet, and the train trundled along at the same speed as any other train. We were later told that this IS a high-speed train, it's just that right now the only high-speed track is between Brussels and Paris. But even though our trip was limited to the tired old slow tracks, we had to pay the premium anyway.

The Thalys delivered us to Brussels at the tail end of the afternoon commuter rush, so the station was fairly busy. It didn't take us long to decifer the Belgian method of listing scheduled departures and to find our train to Bruges. While we waited, we were treated to some of the most foul and disgusting elevator music ever inflicted on a captive audience. All we wanted to do here was change trains, and we wondered what we'd done to deserve this. Brussels Midi station is not a pleasant place.

Our train to Bruges was packed with commuters, so it was hard to find seats. In the center of the car were two pair of seats that faced each other, and each pair was occupied by a suit and his luggage. We said, "these look like a couple of good seats," and the suits grudgingly made room for us. On this particular railroad car full of suits, we felt more disdain than in any place since Salzburg. We spent 50 minutes with people who seemed insulted to be sharing a railroad car with a couple of old hippies.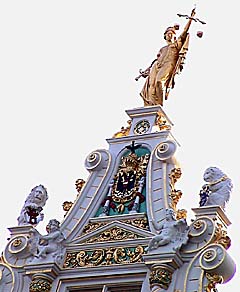 The peak of the facade of Renaissance Hall above, and some more of that building's detail below.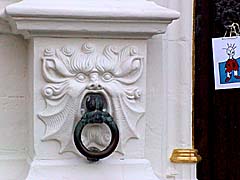 ---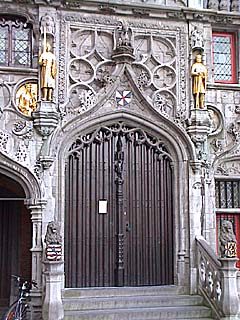 The entrance to the Basilica of the Holy Blood, one of Bruges' oldest buildings.