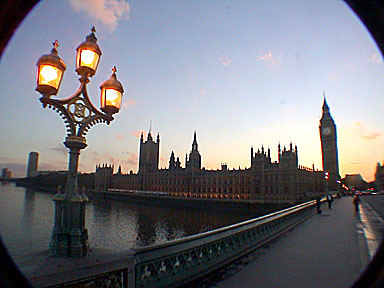 Your classic tourist shot taken from the Westminster Bridge, showing Big Ben and the Parliament building.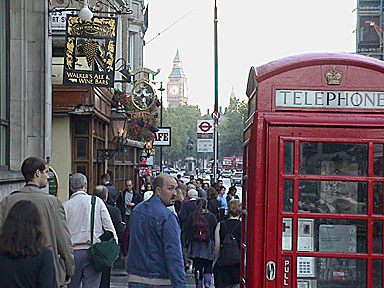 A street scene looking down Whitehall from Trafalgar Square ... see if you can spot RoZ in this picture.
This is an on-line chronicle of the purplearth 2001 oddyzee, an exploration of the nooks and crannies of the world that are missed by the normal traveler.

Our mission is similar to that of our western oddyzee earlier this year: to study the various ways that people address the challenges of day-to-day life, and to apply what we learn to improving life at home. We will closely observe the different ways that people get about. We will sample the food, drink and smoke (not tobacco, of course) that the locals enjoy. We will explore the nooks and crannies where foreigners are seldom seen, as well as a handful of high-profile sites that we think are cool. We will learn what we can from the attitudes that the rest of the world has toward Americans (or at least toward unusual Americans such as us). And finally, we will seek out and explore the homes of our immediate ancestors in an effort to learn why they left here, and perhaps even find some distant cousins - decendants of the families our ancestors left behind.

One dillema we HAVE solved since last summer is the transfer of digital still pictures from the camera into our computer, so expect to see a shot or two with our updates. In fact, we've included two shots from our first day in London.

Expect a fresh update to be added to this journal on roughly a weekly basis. Any interesting discoveries, observations and revelations will be shared here. Feedback and advice are welcome at this link.